Standards of Dress
RCMP Pipes and Drums members will only wear the RCMP Uniform in its entirety.

As part of its 125th anniversary celebrations, the Royal Canadian Mounted Police (RCMP) formed a "Tartan Committee" in the Spring of 1997 to design a unique tartan for the RCMP, to consider orders of dress for RCMP pipers and drummers, and to make recommendations on its findings to the Commissioner. In April, 1998, the Commissioner and Senior Executive Committee (SEC) approved recommendations to adopt a unique tartan for the RCMP, and to adopt a kilted uniform for pipers & drummers.

The decision by SEC authorized a kilted uniform for RCMP community bands of pipes & drums comprised of serving and retired members of the Force, employees, and citizen volunteers.

The head dress is a dark blue glengarry & red touri, complete with a regular size RCMP cap badge centred over the rosette patch on the left side.

The tunic is the RCMP red serge tunic tailored to accommodate wearing of the kilt. RCMP collar dogs are worn on the black gorget patches at the collar and RCMP/GRC shoulder titles are worn on black shoulder straps. The waist belt is the RCMP ceremonial belt with gold buckle and RCMP badge.

The kilt is the RCMP Tartan, 16 ounce, 'military weight'.

Other elements of the uniform include a white horsehair sporran with two black tassels, surmounted by a silver metal and/or black leather cantle bearing an RCMP cap badge, dark blue hose, red flashes, white spats, black shoes or brogues. A Skean Dhu may be worn at the discretion of the individual. Medals as awarded to the individual are worn.

On less formal occasions, the RCMP issue short sleeve shirt is worn in place of the red serge tunic. Epaulette slides are worn designating badges of appointment. A black leather broad belt and silver buckle are worn in place of the ceremonial belt. Medal ribbons are to be worn in place of medals.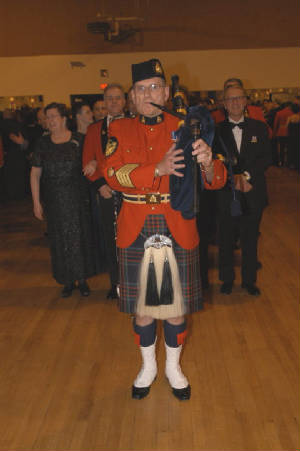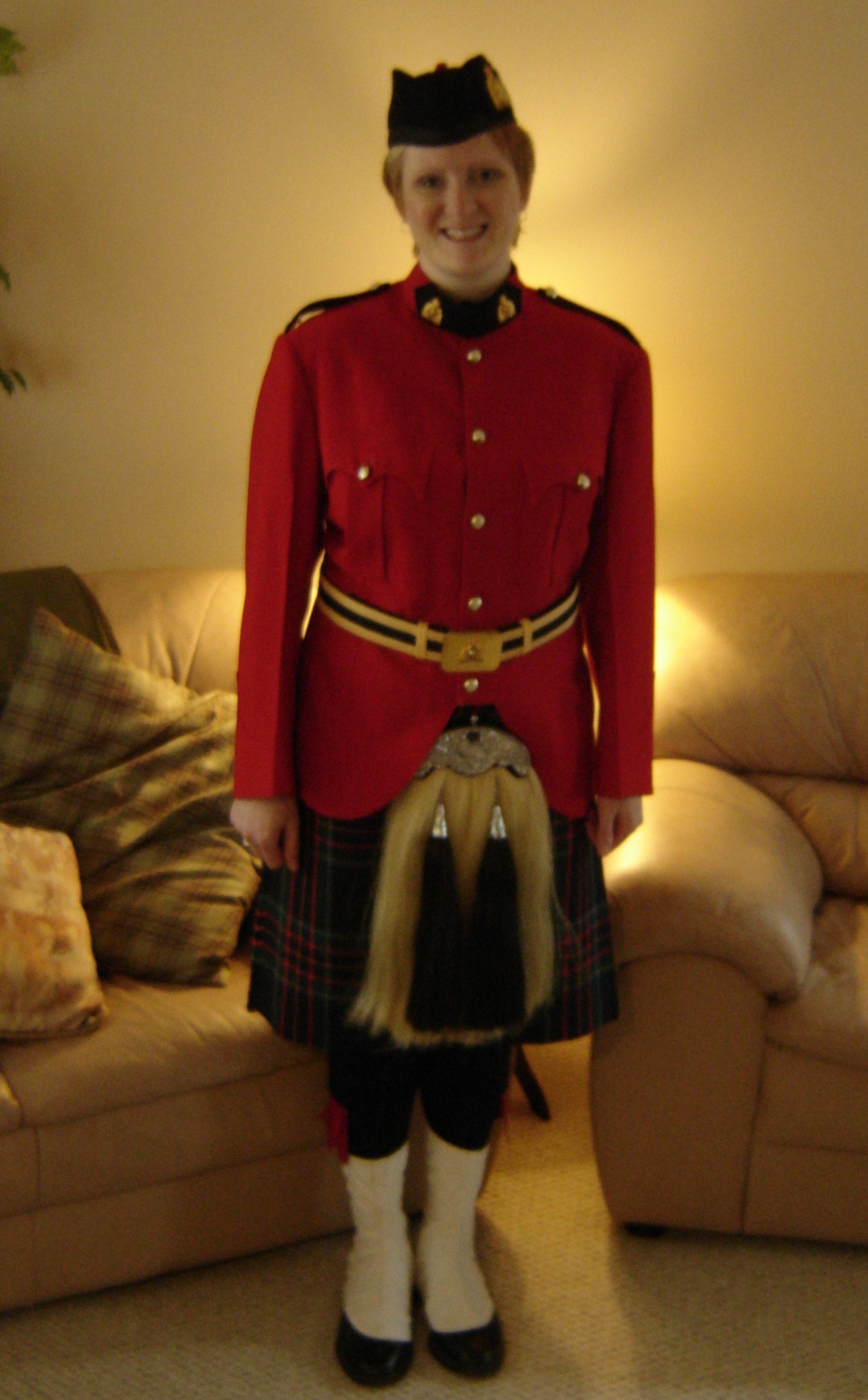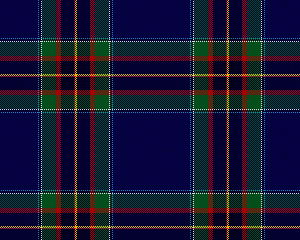 RCMP Tartan
The design of the RCMP tartan was undertaken to mark the 125th Anniversary of the RCMP in 1997. A volunteer tartan committee representative of the Force's geographical regions consulted extensively across Canada, called for submissions and hosted a friendly competition to select an appropriate tartan. Mrs. Violet Holmes of Burnaby, British Columbia, provided the art work that lead to the creation of the tartan. The committee then partnered with Burnett's and Struth Scottish Regalia Ltd. of Barrie, Ontario and Lochcarron of Scotland woolen mills to produce the tartan. Following approval by Commissioner Murray, the tartan was officially registered with the Scottish Tartans Society in Pitlochry, Scotland, and was formally presented to the Force by Her Royal Highness Princess Anne during her visit to Atlantic Canada in June, 1998.

The tartan colours are as rich and varied as the heritage they represent. They are true to RCMP tradition as they are derived from the colours of the Force's uniform and badge. The colours weave into a perfectly balanced tartan design. The over-all effect is pleasingly subtle, reflecting a harmonious interplay of colour that provides an excellent complement to the Force's world-renowned Red Serge tunic.

Navy Blue - This dark blue is the background colour of the tartan. It is the colour of the riding breeches traditionally worn by the members. It is also characteristic of the saddle blanket used by members of the Musical Ride. The dark shade of blue lends a subtle character to the tartan and compliments the members scarlet tunics.

Scarlet Red - This colour is unique to the RCMP. It is the colour of the instantly recognizable red serge known the world over. The scarlet recalls the early years of the Force and of Canada when the colour was worn in service of "Her Majesty", reflecting the presence of the monarchy in the British Empire.

Yellow - It is the colour of the cavalry stripes found on the RCMP's ceremonial uniform and daily work uniforms.

Gold - This colour is from the crown and letters found on the RCMP crest.

Sienna Brown - This colour represents the buffalo, the centrepiece of the RCMP Crest. It is also symbolic of the western plains where the Force's first members served.

Forest Green - This is the colour of the maple leaves that surround the buffalo and scroll found on the crest. The maple leaf itself is distinctively Canadian. The green also symbolizes a link to the land and country